RELAX RECHARGE REFLECT
Yoga Weekend Retreat



5 pm Fri 4 November to 2:30pm Sun 6 November 2016
Silver Wattle Quaker Centre, overlooking Lake George near Bungendore in south-east NSW
(Registration Form below)
The retreat will offer the opportunity for reflection, rest and re-centering,  as well as learning  about specific yoga  techniques and how yoga can be applied to our everyday lives.

Morning and afternoon yoga asana sessions and evening meditation will be included in the program, with opportunities for free time to walk, rest, read or just sit in the garden and absorb the peaceful environment.

Only 30 minutes from Canberra CBD, 3 hours from Sydney and 1 hour from Goulburn, the peaceful Silver Wattle Quaker Centre is located on the edge of Lake George  with expansive views across the lake to Bungendore.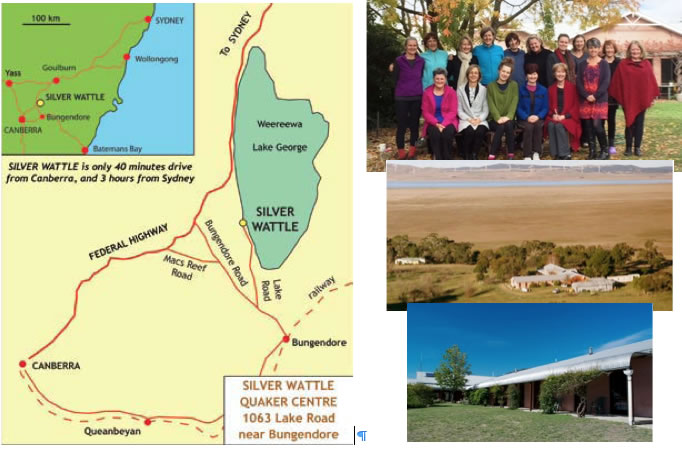 Accommodation is twin-share or single, in comfortable units, each with three bedrooms and bathroom facilities. Units open onto the gardens.

The yoga room is large and airy with views to the lake. It is accessed from the residence wing via an undercover walkway.

Delicious, nourishing vegetarian meals are included. Gluten-free, lactose-free and vegan options are available.
To register for the Yoga  Retreat weekend, complete the registration form below, or contact Jennie if you need more information.
 REGISTRATION FORM
Yoga Weekend Retreat 4th to 6th November 2016
Please fill in the form below and click Submit. We will email you confirmation of your registration.
* Fields are required