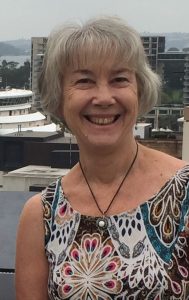 Jennie Blevins
(Dip.Yoga IYTA, B.Sc., Dip.Soc.Sc/Psych., Dip.Ed., CertIVTAE)
Hello and Namaste! I'm Jennie and I have taught yoga and meditation for over 30 years.I am a Registered Senior Teacher with Yoga Australia (YA) and a Full Teaching Member of the International Yoga Teachers Association (IYTA). 
I completed my yoga teacher training with the IYTA in 1982, having been inspired by my mother's yoga practice in the 1960's and my first yoga teacher, Val Clark, former IYTA president. I've studied with renowned yoga teachers like Donna Farhi, Amoona Metcalf, Judith Hanson-Lasater and Leslie Kaminoff. I was inspired by the classical teachings of Kriya Yoga and the Tantra taught by Swami Satyananda & was initiated into the Saraswati lineage.
 I  established Goulburn Yoga in 2003, the first yoga school in the Southern Tablelands. I am also a qualified science teacher, trainer, assessor and counsellor.
I run face to face and online classes as well as weekend workshops & retreats for those wanting time out to deepen their personal yoga practice. I encourage students to modify postures to suit their personal state of body and mind and to use their yoga practice as a form of self- exploration and discovery.
Since 2019 I have been conducting Yoga & Sleep wellness workshops in collaboration with Dr Carmel Harrington, world-renowned sleep scientist and author. In these workshops we integrate the ancient practices of yoga asanas, pranayama and meditation and yoga philosophy with Western science and evidence-based sleep research findings and tools. A powerful combination indeed! See the Workshops & Retreats page for more information about these workshops.
Over the years I have conducted classes in
pre-natal yoga

yoga for children

yoga for seniors

back care yoga

yin yoga

yoga for sleep

yoga nidra

general yoga

meditation
My passion is to make authentic, classical yoga accessible to all. I regard the modification of traditional practices and postures to suit the individual as essential to the basic yogic premises of sthira (steadiness) and sukha (ease). I am particularly interested in investigating how the theory and researched evidence of Western Science relate to the ancient practices of yoga and meditation.